Midtown Park, Houston, TX
The nature-inspired mosaic in Midtown Park has been recognized nationally as one of the Best Public Art Projects by Americans for the Arts. This honor is determined by public art experts in the only national program that awards public arts projects.
The aptly titled 'Wild Wonderland,' created by local artist Dixie Friend Gay, is a perfect encapsulation of the wildlife native to Houston–in the first twelve inches above ground level. Friend-Gay is nationally renowned for her depictions of the natural world, and this installation does not disappoint. Viewed from a distance, the realistic detail is impressive, but the closer one gets to the wall, more appreciable the level of complexity becomes.
Wild Wonderland: 2018 Smalti glass mosaic mural 12′ x 63′ Midtown Park, Houston, TX
Fabricated with Mosaika Art and Design Studios – Dixie Friend Gay, Artist
Landscape Architect: Design Workshop, Inc
Mural Artist: Dixie Friend Gay
Photography: Brandon Huttenlocher / Design Workshop, Inc
Awards:
Planning Process Award, Parks & Natural Areas – Honorable Mention, H-GAC (Houston-Galveston Area Council) Development of Distinction Award - Open Space Category, ULI Houston Development of Distinction Award - People's Choice Award, ULI Houston Honor Award, ASLA Texas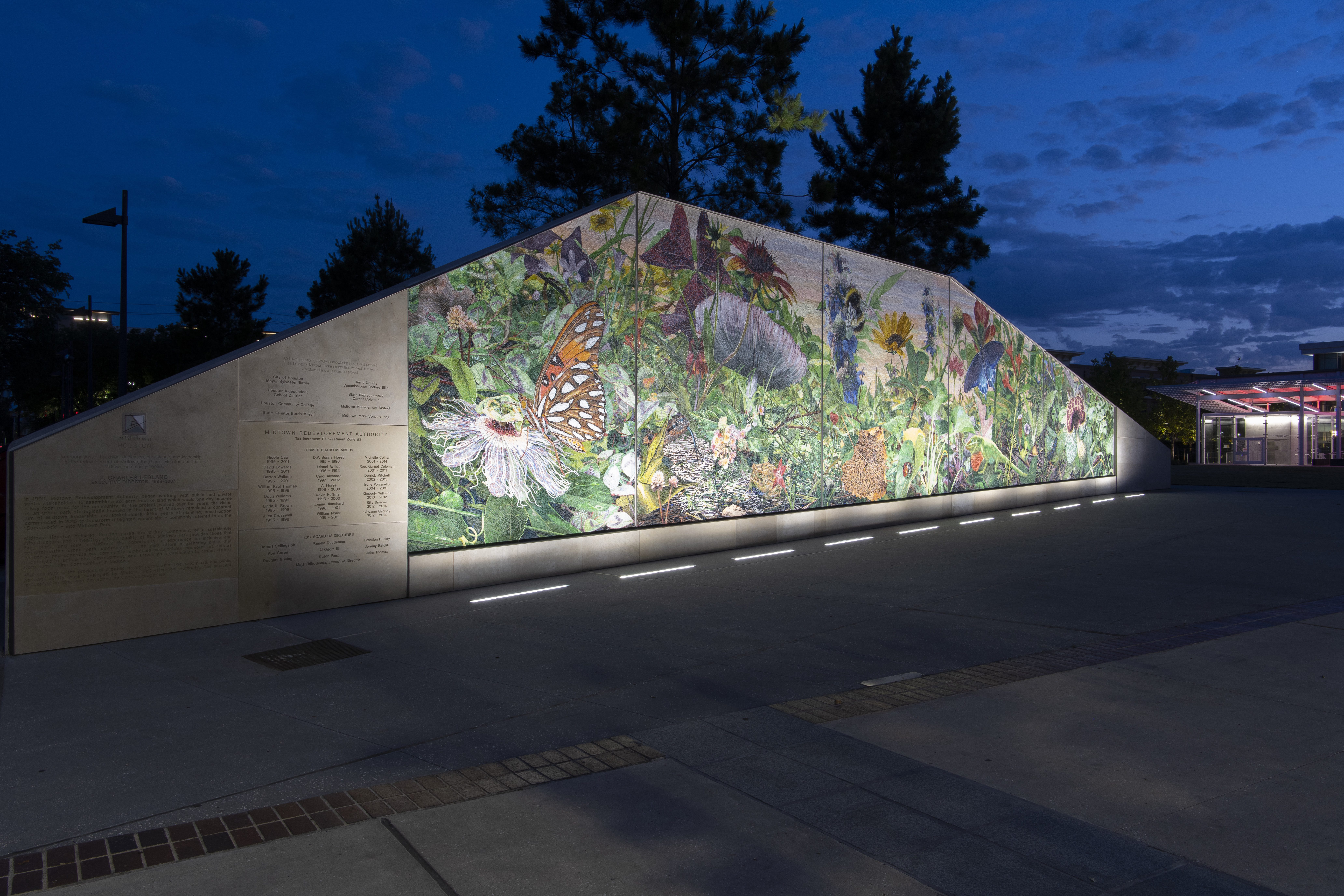 Inspired by photographs from the artist's own backyard, stars of the mosaic include a many-tendrilled passionflower blossom, pipevine swallowtail butterflies, an impossibly realistic bumblebee, and (of course) a green anole lizard–complete with his swollen, red throat. A towering mushroom even reveals its intricate gills like a dancer twirling her skirt. Keen gardeners will note the delicate native blooms, a deep purple oxalis, and subtler details in the dense undergrowth of this intricate work.Not only visually stunning, this mosaic is a masterpiece of craftsmanship, made up of over 800,000 individual pieces of glass painstakingly hand-cut to size. The piece spans an area 12-by-63 feet and took many months and five sets of hands to install.