Chase Center Arena, San Francisco, CA.
Home of the Golden State Warriors
Project Description
Chase Center, a state-of-the-art sports and entertainment arena in San Francisco, is home to the Golden State Warriors and nearly 200 events per year. The state-of-the-art 18,000-seat Chase Center arena was designed to create an inviting atmosphere to its visitors. Each interior destination was crafted with interior destinations that embody varieties of opulence and opportunities for eclectic guest experiences.
"The array of suites, diverse clubs, and public spaces evoke a new caliber of design for arenas – a hospitable blending of high-end luxury and sports. The main concourse level emulates ambient lighting – kinetic in form – to fill the vast scale of a contemporary zone. Court-level clubs integrate an industrial theme with purposeful high-contrasting finish selections and exaggerated fixture scaling while hidden lighting illuminates open structural arena space overhead.
Utilizing an unprecedented technique, the interior lighting color rendering was specified at a warm, 3000 Kelvin, 90 CRI luminaires to support subtle layers of color-changing lighting, integrated within the interior massing of seven leveled tiers, and proudly representing the Warriors team colors of royal blue and golden yellow. Erected on schedule, within energy code compliance, and with 100% LED technology and LEED certification, the Chase Center delivers a new standard in exclusive arena design." – First Circle Design
Project Details
Developer: Golden State Warriors
Lighting Design:
First Circle Design (Interiors)
Sean O'Connor Lighting (Exterior Site)
Pritchard Peck (Office Towers)
Interior Architect: Gensler
Architect: Manica Architecture
Electrical Contractor: Rosendin Electric
Distributor: Graybar
Photos: ©Jason O'Rear / Chase Center
Awards: IES 2020 Illumination Award of Merit
Awards: IES 2021 Illumination Award of Merit for Exteriors
A Touch of TONES
The arena's main entrance lobby evokes an elaborate and grand interior that features a four-story atrium, punctuated by adventurous and progressive ornamentation. The customized color cove lighting boldly represents the team's blue and gold color badges and can be seen throughout a variety of the public areas.
The customized Targetti TONES, designed in collaboration with Gensler, were utilized to boldly represent the teams blue and gold color badges. The special color combination of colors was composed by a precise LED combination that was carefully selected, mixed together and controlled to produce an ideal light spectrum. These rich emission spectrum's incorporating color quality with pure color rendering index can be seen throughout a variety of the public areas.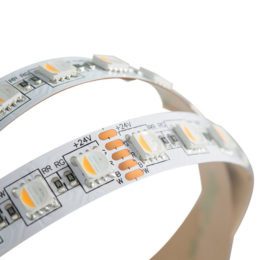 THE TONES COLLECTION